Grand Tetons Itinerary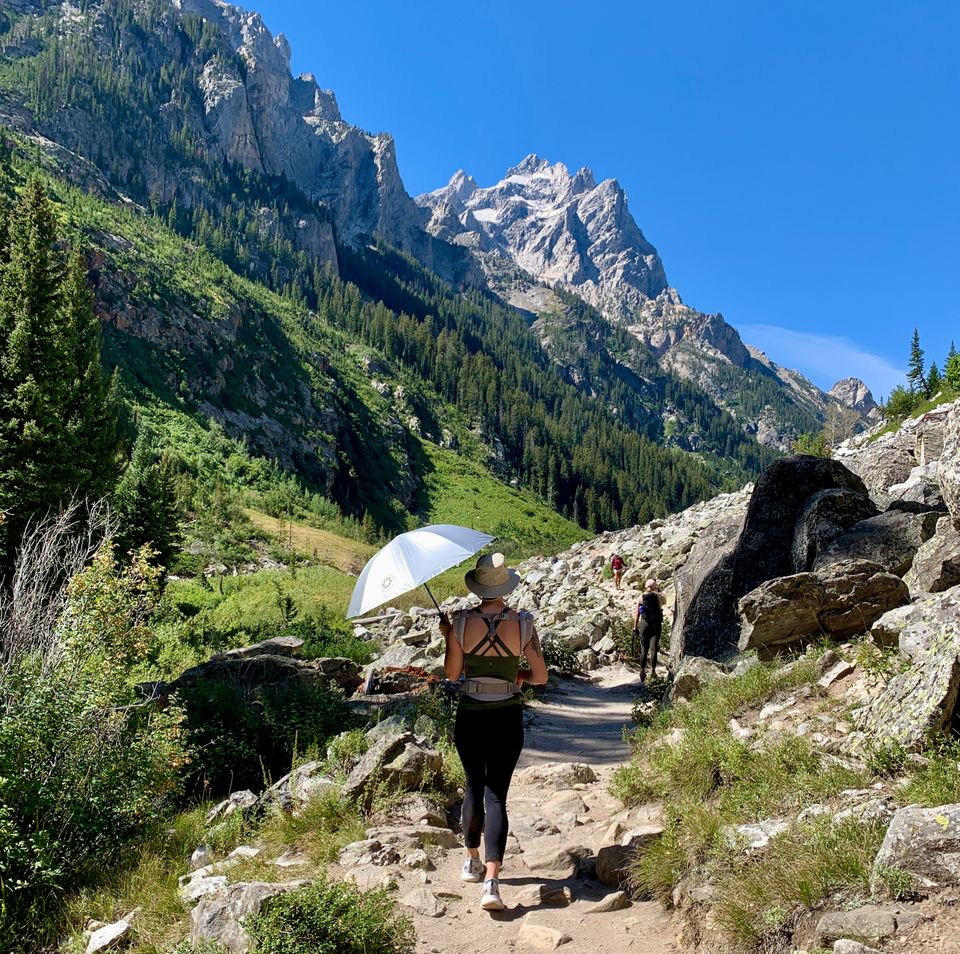 I have my amazing husband to thank for this itinerary for our Grand Tetons family trip (which I share more about the trip here). And, I wanted to share itinerary for hiking with a 6 month old. We did switch some of the hikes around due to weather and our desire for a nap but here ya have it:
Travel - Saturday Aug 27
Arrive at MSP by car by 9 AM. Park in long-term parking (already purchased)
Check bags at Delta counter.
Flight departure at 11:10 AM. 2.5 hr flight time.
Arrive at JAC by 12:40 PM. Get bags from baggage claim and head to the rental car.
Rental car pickup at National.
Saturday remainder
Travel to REI, ~20 min from the airport.
Groceries and lunch at Whole Foods - can get hotbar items there or a collection of snacks.
Drive 1hr to Colter Bay Campground in Grand Teton National Park.
Set up camp, hang out around camp, walk around the nearby area.
Dinner at campsite
Sunday Aug 28
Breakfast, short hike nearby in the Colter Bay area.
Silas nap
Have lunch at the campsite and pack up / prepare for a longer hike.
Afternoon hikes - Jenny Lake area. Drive to nearby parking.
Can choose to ferry across the lake to save ~4 miles of roundtrip hiking around the lake
Dinner at campsite
Showers?
Monday, Aug 29
Breakfast
Pack lunch and everything for a bigger hiking day
Have lunch as desired on the trip
Silas gets a mid-hike nap?
Dinner at campsite
Tuesday, Aug 30
Morning options:
String Lake and Leigh Lake area
Jenny Lake boating rental - first come first served on rental kayaks and canoes
Lunch (either at campsite or elsewhere)
Afternoon options:
Sleeping and chilling?
Signal Mountain Trail
Dinner at Signal Mountain Lodge restaurant.
Showers?
Wednesday, Aug 31
Breakfast
Pack up camp, clean up the car and organize anything needed for a full day of travel.
Drive to JAC, arrive by 4 PM. Drop rental car at National. Check bags at the Delta counter and depart at 6 PM. 1 hr flight to SLC
Dinner in SLC. Find the next gate and board for MSP, departing at 8:55 PM.
Arrive at 12:26 AM Go home. Bed.